Biographical note
Pascal de L'Estocart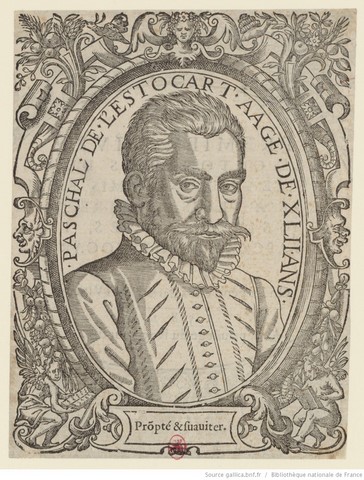 (b Noyon, Picardy, 1537-38; d after 1587)
Little is known about this composer. In 1559 he must have been been in Lyons, where he married in 1565; He probably visited Italy. On 15 September 1581 he received a ten-year privilège from Henri III to publish his works: these were printed at Geneva by Jean de Laon and are exclusively religious in character. L'Estocart seems to have had connections with certain leading Protestant nobles (fam. De La Marck, Henry, King of Navarre, to whom his Psalm compositions are dedicated).
In Geneva he worked with Simon Goulart, Protestant minister and animator of the Genevan literary circle (mainly consisting of Huguenot refugees). He probably
sympathised with
the ideals of the Reformation [my phrasing, Honegger writes in Grove's
adhered to
].
In 1581 he matriculated at the University of
Basle
and in the following year he went to the
court at Nancy
. In 1582 he received a gratuity of 60 écus from Duke Charles III of Lorraine, as a reward for the dedication of his
Quatrains du sieur de Pibrac
[a loyal catholic, active as ambassador fro the French king at the council of Trent].
Het dedicated his
Sacrae Cantiones
(1582), only discovered in the 20th Century, to Count Palatine Johann Casimir, who was... a staunch protestant. In 1583 he was again in Basle. He is next heard of as a member of the Abbot of Valmont's chapel in the Catholic setting of the Puy d'Evreux, which organized an annual competition for composers. L'Estocart won the prize of the Harpe d'Argent for a five-part Latin motet,
Ecce quam bonum et quam jucundum.
One of the hallmarks of L'Estocart's style is his daring harmony, and this is particularly marked in his
Octonaires de la vanité du monde.
He liked harmonies that were used very little by his contemporaries, such as augmented 5ths and augmented 6ths in discords and unusual sequences, and he enlivened his melodic lines with many intervals that are difficult to pitch. His concern was to convey as vividly as possible the sense of the words and to evoke precise ideas. He was one of the most thoroughly italianate of French composers in the second half of the 16th century; however, in that his works are exclusively religious L'Estocart remains an essentially Huguenot composer, and his music has a strength and austerity that well accords with this.
[The last phrase I also find a little bit too 'confessional', Dick Wursten]
From Grove's - Marc Honegger, updated by Dick Wursten, based on research by Vincent Besson and Annie Coeurdevey]
His Psalms: Cent cinquante pseaumes de David mis en rime françoise par Cl. Marot et Th. de Beze mis en musique à quatre, cinq, six, sept et huit parties... Lyon, Barthélémy Vincent / Genève, Eustache Vignon, 1583 (printed in Geneva : Jean II de Laon).
Psalm 137
Psalm 137, sung by the "ensemble 1607"
Psalm 98
Psalm 98 Chanteze à Dieu nouveau cantique in a festive, yet stylish performance: La Fenice and the Ensemble Clément Janequin.
Imagine this at the catholic Court of the Duke of Lorraine.
CD: La Renaissance en Lorraine... Ens. Clément Janequin & La Fenice (dir. Jean Tubery). Adda, 199
Psalm 33
Réveillez vous, chacun fidèle...
This joyous Psalm is performed by the Esemble Clément Janequin, who first sing the melody unisono, austere, but then the music explodes, as the text prescribes: with alle kinds of instruments. Note the 'musical painting' on the words like 'douce harpe' 'luths' and 'espinettes'.
CD: Psaumes et chansons de la Réforme, Ensemble Clément Janequin, HMC 901672