Biographical note
Philippe de Monte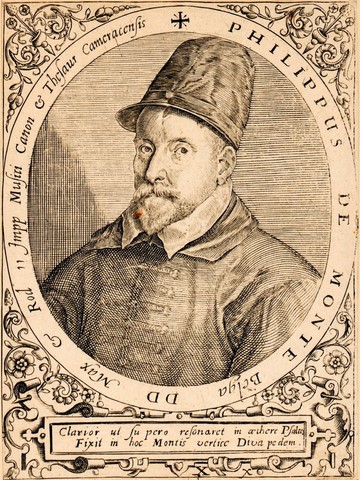 (b Mechelen, 1521; d Prague, 4 July 1603).
Flemish composer, representative of the last generation of great Flemish composers of the Renaissance, one of the major composers of Italian madrigals.
De Monte (the name might well be a Latinization of Van den Berghe) was born in Mechelen in 1521, where he was a choirboy At St. Rumbolds Cathedral. Afterwards he went to Italy — a common destination for talented Flemish composers in the sixteenth century: I Fiamminghi . He made a name for himself as a composer, singer, and teacher. He lived and worked in Naples, Rome (Cardinal Orsini) and was in England for a brief period, 1554–1555,during the reign of Queen Mary I, married to King Philip II of Spain. In 1568 Monte was appointed as successor to Jacobus Vaet as Kapellmeister to the chapel of Maximilian II (Venice). A majority of his music was published in Venice under the direction of Gardano, Monte's exclusive publisher in Italy. Monte worked for the rest of his life in Habsburg courts both in Vienna and, since 1583, Prague, where he died in 1603.
Monte was a prolific composer,[and wrote both sacred and secular music. He wrote about 40 masses, and about 260 other sacred pieces, and he published over 1100 secular madrigals, in 34 books, not all of them having survived.
Only one setting of a French Psalm
by De Monte is known. Psalm 107. It was published by Phalèse in Louvain in 1570 in a collection together with spiritual songs by Lassus and De Rore. The
sheet music
can be found in this collection, and a recording is available in the side panel.
Plus: see image below
Psalm 107
Donnez au Seigneur gloire..
Performers: Capella Amsterdam, recorded in the Nieuwe Kerk in Haarlem (NL), 1989.
Dir. Jan Boeke.
A psalm by an Imperial court composer performed in an ecclesial liturgical style.
CD: Psalms Psalmen Psaumes, Capella Amsterdam, Lindenberg, LBCD09