Pierre Pidoux
Biography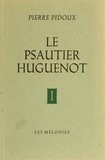 (Neuchâtel, 4 March 1905 - Genève, 16 July, 2001). Swiss theologian, organist and musicologist.

Pierre's father was a protestant Swiss minister, who accepted the call of the Eglise Chrétienne Missionnaire Belge (ECMB) to work in Belgium. From 1906 he served in the Borinage (Boussu-Bois, Charleroi). Because of the 'Great War' the children were send back to Switzerland. Pierre grew up in Neûchatel and attended the gymnasium in Laussane. He graduated in 1933 from the theology faculty of the Eglise Libre in Lausanne and became a pastor at Winterthur. After a long visit to Glasgow, he began to study the organ at the Conservatory in Geneva with Montillet from 1933 to 1936. In 1929 he founded the Choeur J.S. Bach in Lausanne, which he directed until 1948, holding at the same time an organ post in Lausanne. In 1948 he was appointed organist at the Montreux Temple, where he lived together with his wife, Gertrude Junod-Burger. From 1946 to 1965 he was in charge of the hymnology course at the theology faculty of the Eglise Libre in Lausanne; in 1964 he was given the honorary doctorate in theology by the university.

Pidoux's activities have been devoted mostly to hymnology, musicology and teaching. Though he has edited many volumes of other early music (e.g. Gabrieli and Frescobaldi), he is generally known as a specialist in the history of the Huguenot Psalter. He sought especially to promote the music of the Protestant church (organ, choir and community hymnsinging). He was an editor of the series Collection de Musique Protestante (from 1935) and co-founder (in 1954) and general editor of the sacred music series Cantate Domino. He contributed music, harmonisations and texts to the new hymnal of the French-speaking Reformed Church of Switzerland (from 1964 until its publication in 1976). In this hymnal also many texts of his brother, Edmond Pidoux, literature professor in Lausanne, are present. In 1967 he became co-director with Luther Dittmer of the complete works of Goudimel, to which he has contributed several volumes. He composed many works for mixed choir and organ.

Writings
(selection):

'Uber die Herkunft der Melodien des Hugenotten-Psalters', JbLH, i (1955), 113-4
with M. Jenny: 'Untersuchungen zu den "Aulcuns Pseaumes et Cantiques mys en chant à Strasbourg 1539", JLH II (1956), 107-11, JbLH, iii (1957), 126
'Les psaumes d'Antoine de Mornable, Guillaume Morlaye et Pierre Certon (1546, 1554, 1555): étude comparative', AnnM, v (1957), 179–98
'Notes sur quelques éditions des psaumes de Claude Goudimel', RdM, xlii (1958), 184–92
Der Psalmengesang in der Liturgie der reformierten Kirche (Lemgo, 1959)
'Die Autoren der Genfer Melodien', JbLH, v (1958), 184-92
Psaumes des saisons (Yverdon, 1962)
Le psautier huguenot du XVIe siècle, i: Les mélodies (Basle, 1962); ii: Documents et bibliographie (Basle, 1962)
'Antoine Brumel à GEnève (1486-1492), RdM, l:i (1964), 110-2.
'Le chant des psaumes dans le culte réformé', Maison-Dieu, no.92 (1967), 102–14
'Polyphonic Settings of the Genevan Psalter: are they Church Music?', Cantors at the Crossroads: Essays on Church Music in Honor of Walter E. Buszin, ed. J. Riedel (St Louis, 1967), 65–74
'Loys Bourgeois' Anteil am Hugenotten-Psalter', JbLH, xv (1970), 123–32
'Der Kirchengesang im Waadtland (Schweiz) im 18. und 19. Jahrhundert: eine Skizze', Traditionen und Reformen in der Kirchenmusik: Festschrift für Konrad Ameln, ed. G. Schuhmacher (Kassel, 1974), 41–8
La Genève des psaumes et les psaumes de Genève, 1536-1562, in La Musique à Saint-Pierre (Genève, 1984), 25-60
Vom Ursprung der Genfer Psalmweisen (Zürich, 1984)
'Luther, Zwingli, Calvin et le chant d'église', Cahiers Protestants, new ser., i (1986), 5–10
'Die Enstehung des Genfer Psalter', Bulletin der Internationalen Arbeitsgemeinschaft für Hymnologie, xix (1991), 15–36
'La Genève de Calvin et le chant des psaumes', Revue musicale de Suisse romande, xliv (1991), 139–59
Franc, Bourgeois, Davantès: leur contribution à la création des mélodies du psautier de Genève (Geneva, 1993)

Editions
facsimiles:
Les Pseaumes mis en rime francoise, par Clément Marot et Théodore de Bèze. Mis en musique à quatre parties par Claude Goudimel Genève: héritiers Jaqui, 1565) (Kassel, 1935, with Konrad Ameln) [facs. of the Jaqui edition, with commentary]
Cent cinquante pseaumes de David: Mis en rime francoise par Clement Marot et Theodore de Besze, et mis en musique a quatre, cinq, six, sept et huit parties par Paschal de l'Estocart, de Noyon en Picardie. 1583 [Documenta Musicologica, 1st ser., Druckschriften Faksimiles vii] (Kassel, 1954, with H. Hollinger)
La Forme des prières et chants ecclésiastiques, Geneve, 1542 (Kassel, 1959) [facs. with introduction]
Clément Marot et Théodore de Bèze: Les Psaumes en vers français avec leurs mélodies (Genève 1562) (Geneva, 1986) [facs. of the Blanchier edition of 1562, with introduction]
music editions:
Girolamo Frescobaldi: Orgel- und Klavierwerke, 5 vols. (Kassel, Bärenreiter, 1948–79)
Georg Friedrich Kauffmann: Harmonische Seelenlust, i: Praeludien über die bekanntesten Choral Lieder für Orgel ; ii: 62 Choräle mit beziffertem Bass für Orgel (Kassel, Bärenreiter, 1951; 1967)
Andrea Gabrieli: Orgelwerke (Kassel, Bärenreiter, 1941–63)
Claudio Merulo: Canzonen, 1592 (Kassel, Bärenreiter, 1954)
Anthoni van Noordt: Psalmbearbeitungen für Orgel, 1659 (Kassel, Bärenreiter, 1954)
Claude Goudimel: Oeuvres complètes, ix: Les 150 psaumes d'après les éditions de 1564 et 1565 (Brooklyn, NY, 1967)
text editions:
Le psautier huguenot du XVIe siècle, i: Les mélodies (Basle, 1962); ii: Documents et bibliographie (Basle, 1962)
Théodore de Bèze: Psaumes mis en vers français (1551–1562): accompagnés de la version en prose de Loïs Budé (Geneva, 1984) [introduction and critical edition]
Sources
- "Pidoux, Pierre", in Grove's Dictionary (E. Darbellay/ D. Baumann).

- Mélanges d'histoire et de bibliographie offerts à Pierre Pidoux: à l'occasion de son nonantième anniversaire, 4 mars 1995, ed. A. Gaucher (Pessac, 1995) - special edition of bulletin "Psaume".

- J.M. Noailly, 'Survol biographique', in Une centaine de paraphrases poétiques du Psaume 16, Conserva me Domine, pour le centenaire de la naissance de Pierre Pidoux, - bulletin "Psaume" - 16 (2005), pp. 5-10.

- F. Vial-Bonacci, 'Essay de Bibliographie', in Une centaine de paraphrases poétiques.. - bulletin "Psaume" - 16 (2005), pp. 11-13.

- Mémorial Synodal 1839-1992. Eglise Protestante Unie de Belgique, ed. H. Boudin, M. Blok (Brussels, 1992).